Origin :
Shri Muthuswamy, the Founder of this organization was born on 22nd June, 1920. He completed his graduation and was forced to seek employment to support his family. In the Postal Circle Recruitment Competitive examination, he secured a high rank and entered service as a Post Office clerk. Ever since he took the competitive examination, he had an urge to bring out guide books for candidates seeking Government Service. He took the promotion examination for Post Office Accountant and came out successful in 1950. In the year 1955, as an Accountant in Delhi, he had the opportunity to conduct regular free classes for the benefit of his junior colleagues. He edited his lectures and circulated cyclostyled notes on a non-profit basis to examinees in other cities as well. He found that the material supplied by him was immensely useful and that his presentation was received with great enthusiasm.
Encouraged by this, he ventured to bring out his first publication. With perseverance, he added three more books in 1958. By the end of that year, he became well known in many Central Government Offices across the country as a reliable instructor and interpreter in the field of Guide Books for service rules.
Location :
Not far from the hub of busy Mylapore (Chennai), but far enough to be away from its bustle, is housed the Swamy Publishers' office — an office from which books radiate in thousands every day to distant destinations. The calm and serene atmosphere of the office deceptively conceals its methodical streamlined activities and its appearance wholly belies its record sales of books worth crores of rupees in a year. The silent but smooth and steady flow of work, the occasional exchange of instructions, queries and replies in gentle voices, the aroma of informality in its atmosphere create a feeling that the setting might be an administrative unit of a Japanese firm. The Founder of this office, Mr. P. Muthuswamy, affectionately called as Mr. Swamy has, with his indomitable spirit and painstaking work, built up "Swamy Publishers" to what it is now. Presiding over and directing this office, Mrs. Brinda Venkataramanan is assisted by a Board of Editors, Managers and other staff.
Board of Editors :
Mr. Swamy had personally selected some junior officers serving in Central Government Offices in Chennai and trained them in the work of editing and updating his books. Mr. Swamy helped them to obtain Government's permission for working on some of his publications during off hours. Mr. Swamy as Editor-cum-Author in Chief, advised them from time to time and supervised their work in addition to taking on himself the more onerous of the tasks. Now the Board of Editors are able to carry on Mr. Swamy's mission in the service of Central Government staff.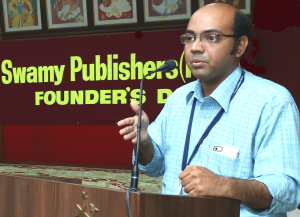 The Management :
The Management takes personal interest in the welfare of every member of the institution and even sorts out their domestic problems. Quite often, their assistance to them goes well beyond the norms of employer's obligations to their staff. All the members unhesitatingly turn to them for counsel and aid at all times.
Organizational set-up :
The organization has 12 departments, namely Administration, Editorial, Production, Stores, Accounts, Typesetting, Proof reading, Information Systems, Agents, VPP, SwamysnewS and Counter Sales Departments.
The Administration department maintains the office building spotlessly clean and keeps it functioning efficiently. The Production department maintains the paper stock and carries out the work of getting the books printed and bound. The stores department maintains the stock of books, forms and registers in a well arranged manner and executes the orders in time. They do the packing of the consignments for all orders executed by the office.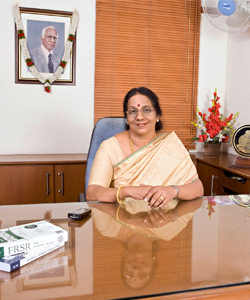 All day-to-day cash transactions of the company are taken care of by the Cash section. The Accounts department maintains all up-to-date accounts watching for payments and sending reminders. While the company expects the clients to settle their bills in time, the company also makes payments to its suppliers promptly.
The typesetting department of the office prepares the typeset of all the manuscripts and sends them for printing. The proof reading section of the office ensures that the books are error free.
The complete functioning of the office has been computerized right from order entry, preparation of packing lists, Invoices, sending of reminders and other communication.
Swamy Publishers has book-sellers spread all over the Country. The dealer network is widely spread all over India to ensure that our books reach the users as soon as they are released. The transactions with dealers are dealt in the Agents Section. The VPP Section executes orders for individual customers.
The SwamysnewS section maintains a complete record of all the subscribers and sends the monthly journals in time. The Counter Sales department answers to the queries of all the visitors to the office and deals with the direct sale of books. The Bills for Government offices are also prepared at that level.
Office Staff :
The executive office dealing with completion of mail orders for books, raising of bills, despatch of publications and attending to correspondence and accounts is a completely computerized office headed by Managers acting under the able guidance of the Management. The Managers and their staff, about forty young assistants, form a happy close knit team, content, disciplined and devoted to their work.
Dedication :
So well organized and flourishing, it is no mean achievement that this institution is so dedicated to its service which happens to be the lifeline of the Central Government staff and the offices in which these employees work.
In visionary organizations, 'quality' becomes the very foundation on which the organization is built. With a Founder who had a great vision, organizational values were developed and these values developed the organizational systems in accordance with it.
Swamy's Books :
The rules notified by the Government in the Gazette contain only the bare rules. All administrative instructions and other allied rules come in succession. They are not codified and included in the rules. Further, the Government has been issuing further orders every now and then, but dependable, up-do-date comprehensive official code books for reference are not available. It is this vacuum that is being filled in by Swamy's books.
The merit in our Books lie in the following facts
Quality Paper
Quality Ink
Quality Print
Printing free from errors
Sturdy Binding
Choice of types to distinguish between rules, explanations and author's note
Up-to-date version with latest amendments
To be more specific, our titles cover almost all the aspects involved in the service of a Central Government employee right from his joining service to his pension rules after retirement. Our books are broadly classified into Reference Books, Special Books, Guide Books and our monthly magazine — SwamysnewS.
Reference Books
These books are mainly Compilations of various service Rules. We are proud to mention that these books are approved by the Government for use by the departmental candidates in the examinations.
We have the FRSR series - Fundamental Rules and Supplementary Rules with a set of four books
Part I - General Rules
Part II - TA Rules
Part III - Leave Rules
Part IV - DA, DR & HRA
The other main compilations are :
Pension Compilation Rules
Commutation of Pension Rules
Extraordinary Pension Rules
Group Insurance Scheme
Staff Car Rules
Medical Attendance Rules
CCS (CCA) Rules
Conduct Rules
General Provident Fund Rules
Leave Travel Concession Rules
Children's Educational Assistance
General Financial Rules
Delegation of Financial Powers Rules
House Building Advance Rules
Suspension and Reinstatement Rules
Overtime Allowance Rules
Contributory Provident Fund Rules
Revised Pay Rules (Consequent to every Pay Commission)
Central Treasury Rules
Temporary Service Rules
P & T Financial Handbook
Introduction to Indian Government Accounts and Audit
Service Rules for Postal GD Staff
Central Administrative Tribunal
Departmental Canteen Rules
Re-employment of Pensioners - Civilians and Ex-Servicemen
Advances to Central Government Servants
Receipts and Payment Rules
Seniority and Promotion Rules
Reservation and Concession to SC / ST, OBC, etc.
Confidential Reports
Uniforms for Groups 'C' and 'D'
Pension Revision Manual
New Pension Scheme
Allotment and Licence Fee of Government Residences
Right to Information
Swamy's Annual - 1986 to 2011

Special Books :
The books that come under the Special category are Manuals which are a combination of service rules with complete set of rules and orders pertaining to functioning of offices.
Manual of Disciplinary Proceedings
Manual on Establishment and Administration
Manual on Office Procedure
Know your Retirement Benefits
Manual for DDOs and Heads of Offices - Finance and Accounts
Manual for DDOs and Heads of Offices - Establishment
Interpretation on Service Rules
Personal Service Record
Guide Books :
The Guide Books that are published by Swamy Publishers were mainly introduced to help the Central Government employees scale the ladder of success with proper guidance. These books are in great demand during departmental examinations and also for day-to-day understanding of rules. These books have extensive illustrations for all kinds of rules.
Swamy's TA Rules Made Easy
Swamy's Pension Rules Made Easy
Swamy's Leave Rules Made Easy
Swamy's Pay Rules Made Easy
Swamy's Master Guide to FR & SR
Swamy's Income Tax on Salaries
Swamy's Precis and Draft Made Easy
Swamy's Handbook :
A jewel to the crown of books published by Swamy Publishers is the most sought after Swamy's Handbook for Central Government Employees. We publish almost all the Rules, Regulations, Codes and Manuals in several dozens of books to more than 10000 pages. Hence a need for a gateway to all these subjects was felt and the answer was a necessity to have a handy book containing the essence of all relevant rules and orders. With this intention, all the rules and regulations were assembled, collated, edited and compiled into a short and sweet book, not unwieldy but yet serving as an encylopaedia. Swamy's Handbook has over 285 topics in 30 sections. Though the book is compact, our motto of excellence in presentation methods is maintained.